Streaming is continuing to be a forcing function in many ways. When it comes to business models, there are still major growing pains as to what will make media companies profitable, and when it comes to how consumers pay for content, there are also growing pains as churn rates are high. 
Nielsen recently came out with their monthly report saying summer is the time for streaming for viewers under 18. In July these viewers spent 4% more time streaming—the increase from May to June was even larger—but even though viewing by older consumers showed a small decline, the amount of streaming watched was still on the increase.
Nielsen has a pie chart where they compare which viewing modality is winning. As of now, streaming is the winner garnering 38.7% of the pie compared to traditional media consumption of broadcast 20%, cable 29.6% and other, which is primarily video game consoles 11.6%.
Which Business Model?
So while streaming may be inching ahead this is far from a sure bet. Both Disney+ and Netflix have had ad-supported accounts out for less than a year. It's way too early to call this "good."
The one shining star for streaming is the CPM's are higher. "Broadcast is $20.00, streaming is $30.00 but non-targeted streaming is $18.00," says Laura Martin , Managing Director, Senior Internet & Media Analyst, Needham & Company. Netflix is probably getting $40-$50. she says. "Microsoft bought the Netflix deal and they limited it to certain brands because they were only running 5 minutes of ads per hour. As that increases, so will add load and amount of buyers. Increased summer viewing from Nielsen will do nothing" to increase ad rates, she continues. "It's already priced into the market."
What would go a long way for Netflix is more viewers.
At the upfront in May, Greg Peters, co-CEO, Netflix, said more than a quarter of Netflix subscribers now choose ad-supported plans if they are available. Their Standard with Ads is $6.99 per month in the US and is available in Australia, Brazil, Canada, France, Germany, Italy, Japan, Korea, Mexico, Spain, the United Kingdom, and the United States.
In their most recent earnings call, Disney said 40% of new Disney+ subscribers are choosing ad-supported subs when available at $$7.99 in the US. Their domestic average revenue per month has increased to $7.31 from $7.14 based on ad revenue. They have also announced ad-supported content will begin rolling out in Canada and parts of Europe on November 1.
Disney+ announced before they even released the ad supported tier that they expect two thirds of subscribers to be on the ad supported tier. "They're very clearly moving in that direction by raising the price of the ad free version," says Mark Loughney, Senior Consultant, Hub Entertainment Research.
This all sounds promising, but it's not yet what fortunes are made on. "The media agencies are estimating that ad-supported Netflix subscriptions are around 2 million homes in the US and Netflix has said its 10 million active users worldwide" have ad-supported subscriptions, according to Loughney. "A lot of the media agencies are saying until they get more scale, it's not actually possible for us to put any more money down than we are because we've already maxed out our reach."
When he first "got into cable," Loughney says, "if you were in 30 to 40 million homes, you were considered viable for a national advertiser. Once you get into the 20 million range of subscribers on the ad-supported tier, then you probably get some real consideration [from advertisers]."
Right now, the reach isn't there for growth to happen faster. There is not enough ad-supported viewing to make this a mature market, but this will change. "Households under $65,000 per year will buy ad supported viewing and that is much of the country," says Martin.
Content Crunch
The next problem is the combination of the guild strikes and the all-you-can-view model is putting a lot more pressure on companies. Sports is the one bright spot. "The NFL will have biggest year yet because there's no new content," says Martin. "Sports gains a higher CPM, and has a higher ad load." Even Netflix is getting into the game with plans to stream a celebrity golf tournament.
"The problem of course is the volume of content that people are consuming and the very high-production value," Martin explains. "Content is really, really expensive, so how do you produce enough content when you're in a marketplace where you are leveled off in your subscriber growth, and the only levers you can pull now are either adding an ad-supported tier and bringing in ad dollars" or increasing your subscription price?
"When you're saving three or four bucks a month, our research shows the majority of people will consider [ad-supported subscriptions]," says Loughney. "About 60% of our respondents say I would take ads to save four or five bucks a month, and we're close to that threshold."
He goes on to explain, "There's a segment of the marketplace—roughly 10% of people—who cancel and add services in the past month. They tend to add and drop one or two services [monthly]. In a market where you're clawing to get an another 1% or 2%, that's an important segment."
Crystal Ball Time 
It doesn't seem like the new streaming world, with all these direct-to-consumer offerings, has been great for consumers. Certainly, it hasn't been good for media companies. So while viewing may be up, brand loyalty is lacking, and this makes revenue growth even harder to come by. Last thoughts:
Ad-Supported Viewing: "I don't think we're quite there yet, but our research is people are very willing to watch ads if it saves them money," says Loughney.
Will direct or programmatic win as an ad sales approach? "Direct," says Martin. 
How to stop churn? "I think the opportunity is there for aggregation that might stem a lot of this subscriber loss," says Loughney. 
Future business model? "My prognosis is maturity is still 7 to 10 years out where streaming will be 50% subscription and 50% advertising [made up of AVOD and FAST]," says Martin.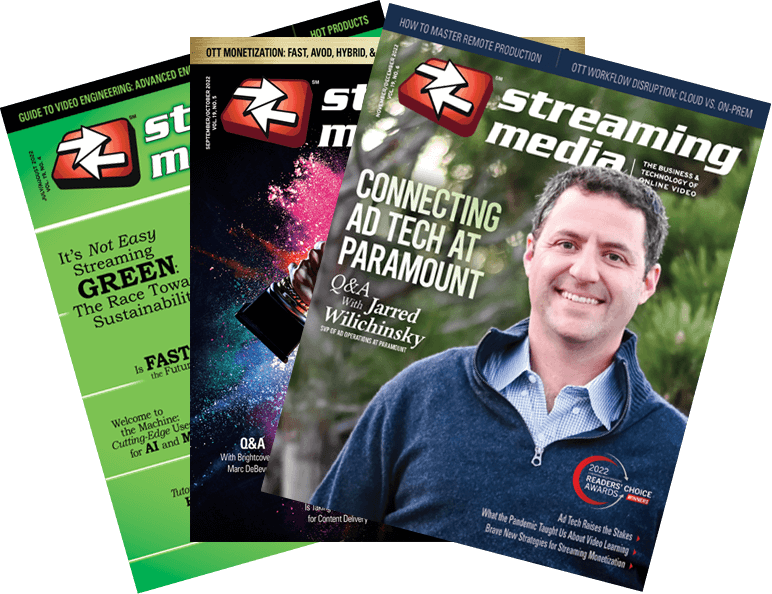 Related Articles


Jason Fairchild, CEO of growth marketing CTV ad platform tvScientific, weighs in on the Netflix Q2 earnings report and the challenges the premium OTT platform faces in growing ad revenue in the near- and long-term



25 Jul 2023

The fact that Netflix is embracing ad verification and thus doing what is expected of every major media company that serves ads is good to know, but not particularly newsworthy on its own. What makes the announcement significant is that it shows that Netflix is relying on a measurement requirement (not of their own creation) which is simply hard to take seriously.



21 Mar 2023

Adds unique visibility into total viewership by streaming platform alongside linear TV ratings



22 Apr 2021

Companies and Suppliers Mentioned