Evan Shapiro, self-described "media cartographer" whose incisive data presentation, analysis, and commentary is mapping out the future of the streaming media industry and overall entertainment sector, has signed on as host, moderator, and MC of the next Streaming Media Connect virtual event, which runs August 22-24. Evan will be joined for the August 22 keynote by Quincy Olatunde, VP, Products, D2C at NBCUniversal and PeacockTV, for a candid discussion titled "Engaging the Media Ecosystem," focused on current challenges facing the industry and the critical need to look beyond borders.
"Evan proved a galvanizing presence at Streaming Media East 2023," remarked Streaming Media VP & Editor-in-Chief Steve Nathans-Kelly. "His standing-room-only 'YES, AND…' closing keynote typified the transformative effect his insightfully curated media industry data, potent visualizations, and no-holds-barred analysis is having in our industry. Even if it's not always what we want to hear about where we are and where we're going, it's what we need to hear. The only thing better than following Evan Shapiro's sharp and incisive daily (and then some) LinkedIn posts is catching him live. Evan will be a great addition to Streaming Media Connect, elevating our already star-studded program to the realm of must-see TV."
Evan Shapiro at Streaming Media East 2023
The August 2023 Connect event, Streaming Media's ninth content-rich virtual conference since 2020, will include lively panel discussions on many of the hottest topics in the streaming world today, with sessions including:
A Real-World Look at Deploying a New Codec, featuring Streaming Learning Center's Jan Ozer and panelists from Warner Bros. Discovery and other tier-one content providers 

Bridging the Gap Between Broadcast and Streaming Tech, featuring panelists from Paramount, USA/Gannett, and Boston 25 News

FAST Times: Keeping Up with the Evolving FAST Ecosystem, with popular moderator Chris Pfaff at the helm and presenters from Revry.tv, Hartbeat, and Estrella Media

Beyond ChatGPT: How AI Is Transforming Streaming Workflows and Businesses 

Lean Into It: Delivering Engaging and Ecommerce-Rich Interactive Streaming Experience

and many more
Evan Shapiro will also take his own turn in the moderator's seat on August 24, leading a crackling panel titled "Premium to Freemium: Monetizing Top-End Content in 2023."
Streaming Media Connect is a three-day webinar series free to all registered attendees. Register today for Streaming Media Connect!
About Streaming Media Magazine 
Streaming Media magazine is the leading publication discussing all forms of online video technology and business models. The magazine also administers and hosts the annual Streaming Media East, Streaming Media Connect, and Content Delivery Summit conferences. Each of these properties is solely focused on giving attendees the chance to see and hear the best and the brightest minds in the online video industry — at the podium, in the Exhibit Hall, and among the attendees. For more information about the magazine, its editorial calendar, its events or Streaming Media magazine in general, please visit us on the web at http://www.streamingmedia.com. The StreamingMedia.com website (which is updated daily) and Streaming Media magazine are properties of Information Today, Inc.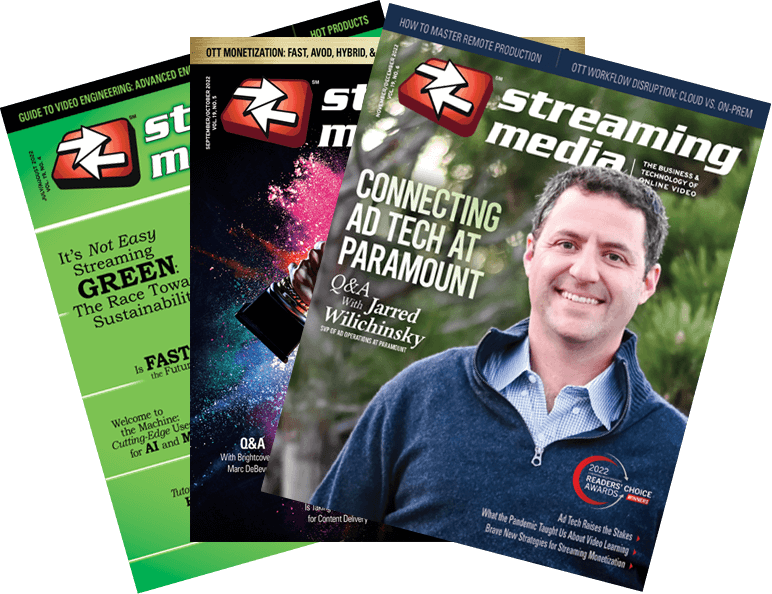 Related Articles


ICYMI–Streaming Media presented its 11th Connect virtual conference August 22-24, with Evan Shapiro as host and MC, a cracking keynote from NBCUniversal VP Quincy Olatunde, and 12 dynamic panel discussions featuring industry luminaries sharing their expertise on topics ranging from OTT to FAST to generative AI to emerging codecs to edge delivery to streaming at scale and more. The full archived conference is available right here!



25 Aug 2023

Steve Vonder Haar talks with Andy Howard of Howard & Associates about the panel he will moderate for Streaming Media Connect 2023, "Best of Both Worlds? Making Hybrid Events Work for All Viewers," this Wednesday, August 23 at 11:30am ET.



21 Aug 2023

At this year's Streaming Media East, well-regarded entertainment industry "media cartographer" Evan Shapiro will present the closing keynote address, "The Mind Of The Modern Media Consumer," where he will discuss the latest data and context from the media ecosystem and offer a good sense of where the industry is likely headed next.



23 Mar 2023