A common way to adjust your build in The Lords of The Fallen is to Respec your character by talking to a former boss who now resides in the main hub area of the game. You need to collect a rare item to begin this reinvention of your Attributes. The ability to take each of your stats and rebuild them from the ground up can be a powerful way to wield different weapons, armor, and other gear found in the Axiom and Umbral Realms.
You need to at least beat Pieta, She of Blessed Renewal in Lords of The Fallen before you can even consider a Respec, since the boss becomes a friendly NPC after their defeat. Traveling to Skyrest Bridge will let you speak to Pieta after battling her, letting you learn more about the world of Lords of The Fallen. She acts as a vendor for the rest of the game, letting you spend your earned Vigor that you haven't spent to level up.
Related: Lords of the Fallen: How To Level Up Fast
How to Respec Your Character in Lords of The Fallen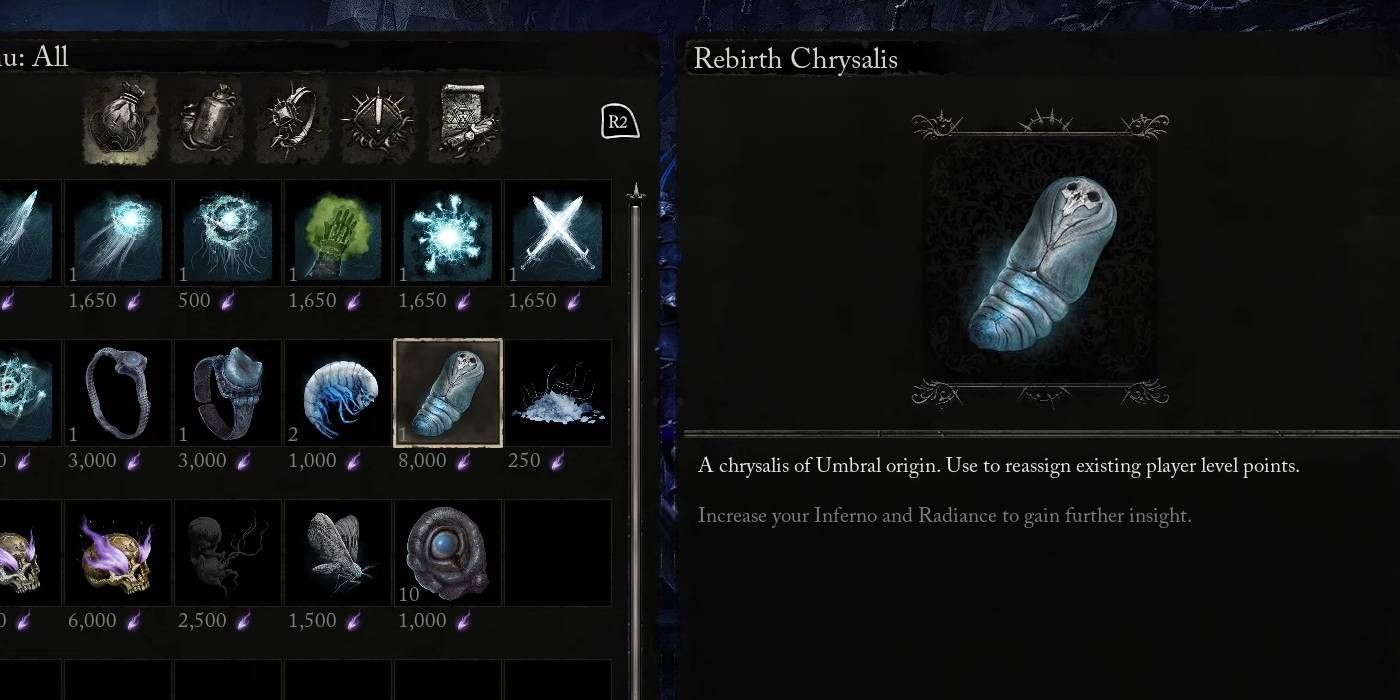 In order to Respec your character, you have to exchange a Rebirth Chrysalis with Pieta for every stat that you wish to set back to 0. Rebirth Chrysalis are special items that are rarely found in the world, only in two separate locations. Thankfully, you can also purchase this Chrysalis from two separate vendors who also appear in Lords of The Fallen, both of whom travel back to your Hub after certain quests.
You are able to find Rebirth Chrysalis at the Fief of the Chill Curse and the Tower of Penance, but you'll have to explore the area in the Axiom and Umbral Realms. It is far easier to purchase one Chrysalis from either Molhu or Winterberry back at the Hub for 8,000 Vigor each. Defeating powerful bosses like the Lightreaper in Lords of The Fallen will give you plenty of Vigor to buy the Chrysalis you need for a proper Respec.
Molhu is an NPC whom you can purchase items from such as a Rebirth Chrysalis, but you must travel to the Umbral Realm to speak to this vendor.
Once you're ready, select the "Chrysalis Rebirth" prompt from Pieta's vendor menu to consume a Chrysalis from your inventory. From here, you have to reassign all levels for your character without going beyond your current level which was determined by your origin. A successful Respec in Lords of The Fallen is complete when you select the "Yes" option from your Attribute screen, consuming a Chrysalis in the process.
Platform(s):

PC, PlayStation 5, Xbox Series X/S

Developer(s):

HEXWORKS

Publisher(s):

CI Games

Genre(s):

Fantasy, Action RPG

Multiplayer:

Action RPG

Engine:

Unreal Engine 5

ESRB:

M

Summary:

The Lords of the Fallen is a single-player/co-op Action-RPG set in a high fantasy setting, acting as a soft reboot of the original entry, Lords of the Fallen. Over a thousand years after the first game's events, The Lords of the Fallen will set players in a massive world -one five times the size of the original – filled with NPC quests, dungeons, bosses, and other surprises that await. To navigate the lands between the living and the dead, players will fully customize their hero before embarking on the adventure. They can tackle the entire game solo or cooperatively with a friend online. The Lords of the Fallen emphasizes fast-action combat and a souls-like approach to world navigation. The release date hasn't been set for the title, but it will be exclusively available on PC and next-generation consoles.

Prequel(s):

Lords of the Fallen