Last week, Warner Bros. Discovery (WBD) took the spotlight in the streaming world with the long anticipated launch of its new MAX service, merging the assets from HBO Max and Discovery+. After weeks of discussion, the company's turnaround strategy for its streaming service was designed to accelerate profitability, mostly as an opportunity to reinvigorate subscriber growth. As the streaming wars dial to a close, and media conglomerates focus their attention lowering streaming losses, the launch of MAX keeps the dream alive for the streaming economy against fears of consolidation.
The Streaming Wars in 2023
The past few years have seen a massive investment from entertainment giants into their streaming businesses, often calling it the future of media consumption. As new players continued to pop up, from Netflix and AppleTV+ to Disney+ and Paramount+, media titans weren't fighting over just viewership on flagship networks, but now subscribers worldwide. With consumer sentiment towards streaming changing – due to issues over the number of platforms they wanted to subscribe to as well as concerns over costs – these companies found their subscriber growth lessening and ultimately impacting the bottom line.
Looking at Q1 2023 earnings, nearly all of the major players in the streaming industry suffered losses, calling into question the belief that streaming can turn into a profitable business segment by 2024. Earlier this month, Paramount's shares dropped 28% after the company's latest earning report, with Wall Street holding the streaming business accountable for the losses. Other companies with streaming services, like Disney and NBCUniversal were also down this quarter due to costs from their streaming businesses.
The only company that found some success with their streaming business in Q1 2023 was WBD, turning in its first profitable quarter despite WBD's overall losses, sending the company's stock prices up after reporting. WBD also reported a $50 million positive streaming EBITDA for Q1 – indicating that the business is hitting its stride and performing ahead of expectations, while its competitors clearly fall behind. This difference allows WBD to stay away from spending money on content and marketing, and focus on retaining its global subscriber base.
Opportunities for Warner Bros. Discovery
WBD's first successful quarter for its direct-to-consumer business showcases a number of great opportunities for the company's growth, of course starting with the streamer's rebrand. WBD faced backlash over the past few months for certain programs vanishing from the HBO Max platform, and other shows ending during active productions. With WBD's look to cut costs through 2022, the company already hit its peak for streaming losses and is on track to make $1.35 billion in streaming profit by 2025, 35% higher than general analyst consensus.
These upward trends for WBD consider a number of different factors: rebrand to reinvigorate previous subscribers who canceled their plan or attract consumers who never subscribed; new geographic launches; a higher degree of pricing power from ad-supported streaming tiers; and other cost-cutting strategies.
Previously, the HBO brand and existing track record of high-quality content established a subscriber base of roughly 75 million. With over 20 million subscribers of Discovery+, WBD's new platform is already used by 97.6 million consumers in North America and Latin America. Through a newly branded service, WBD can drive engagement to new subscribers globally – thanks to content that appeals to an array of consumer tastes including sports, news, premium scripted fiction, and non-fiction programming.
WBD is reported to be targeting 130 million global streaming subscribers by 2025, making for roughly 11 million in yearly gains. The vast majority of these projected gains will come from MAX's global expansion, first with the LATAM expansion in Q4 2023, closely followed by expansions into Europe, Asia, and other markets through 2024. In addition to global expansion, the MAX rebrand also enables WBD to update its pricing tiers – for both ad-supported and ad-free streaming, driving higher revenues.
The Future of MAX
It's no secret that all eyes are on WBD, specifically MAX, as it navigates the next stage of its journey in the streaming business. Will the company be able to continue curbing costs on content and marketing? How will they implement new monetization strategies? Will WBD follow in Netflix's steps and crack down on password sharing among users? These are all questions MAX leadership will look to address in 2023 and beyond – and early indicators are showing they'll be successful.
As the dust settles in the streaming industry, WBD has a major opportunity to differentiate itself from the narrative that direct-to-consumer content businesses are siphoning money from their parent companies, and actually drive profit for media conglomerates.
[Editor's note: This is a contributed article from Bloomberg Intelligence. Streaming Media accepts vendor bylines based solely on their value to our readers.]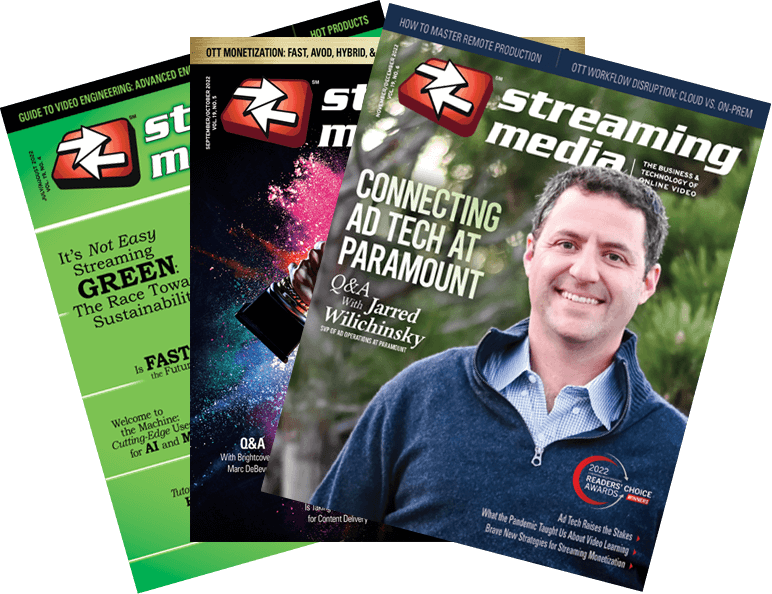 Related Articles


As streaming services continue to revolutionize entertainment, it's essential to understand what consumers value most about these platforms and what it means for the industry's future. Although Netflix's password crackdown has dominated recent headlines, data analytics company Premise highlights research that shows affordability to viewers as a more pressing concern.



22 May 2023

Warner Bros. Discovery today announced WBD Stream, a new, unified digital video offering available to advertisers in the 2023-24 Upfront. The new destination for digital video offers advertisers seamless access to the most popular and premium content across Warner Bros. Discovery's portfolio of sports, lifestyle, entertainment, news, including the websites and apps of top brands like Bleacher Report, Food Network, TNT, Animal Planet, ID and HGTV.



17 May 2023

The HBO Max and Discovery Plus merger is a bellwether of a major shift towards aggregation, while Apple and Amazon have key advantages over services such as Netflix due to their financial resources and a new focus on non-scripted programming like sports events



31 Aug 2022