The Buzzard is an excellent Legendary Kinetic Sidearm in Destiny 2 that initially returned in Season of Defiance. This weapon has an Adaptive Frame, meaning the gun has a well-rounded grip. Additionally, this archetype is reliable and sturdy. Sidearms perform well in both PvE and PvP content. This is due to their lightweight design and quick-firing speed. The Buzzard comes with some great Perks for any game mode.
Vanguard rewards in Destiny 2, can be earned by completing Strikes. Nightfalls are a similar activity but rotate weekly. These missions have modifiers that increase the difficulty and require a higher level of teamwork to complete. Guardians must also meet a required Power Level to participate in these activities. In Season of the Witch, the Buzzard drops from The Scarlet Keep Nightfall. Guardians are not guaranteed to acquire this weapon, but higher difficulties increase the chances. The Scarlet Keep can be a challenging activity, due to little cover from enemies. Guardians should always keep moving and stay vigilant in this Nightfall.
How To Get The Buzzard (& God Roll)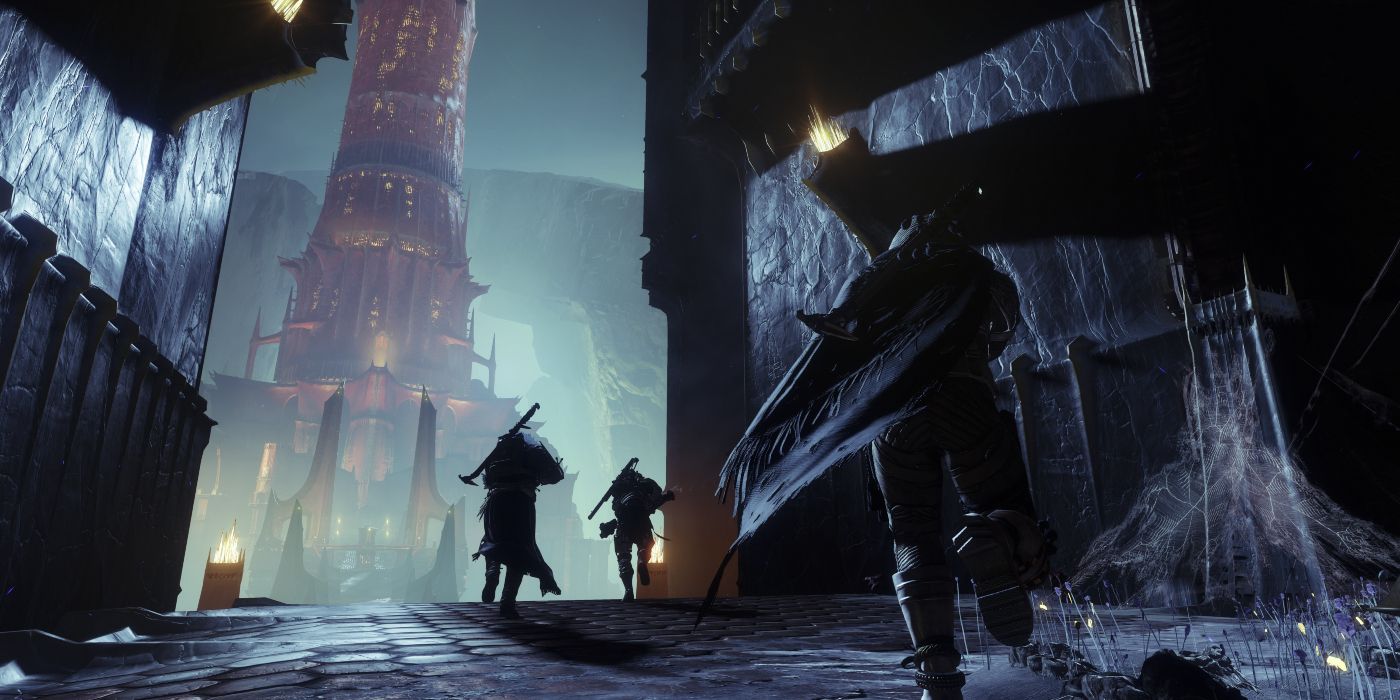 Grandmaster difficulty is the only way to ensure that a Nightfall weapon drops at the end of the activity. However, Guardians will need to obtain a Platinum Rank by defeating every Champion in the mission. While incredibly challenging, Grandmaster Nightfalls rewards the Adept variant of the weapon in rotation.
This is better than the normal version because Guardians will be allowed to equip Adept Mods in Destiny 2. These add bonuses to a weapon, such as a significant stat boost. Butters on YouTube has a great playthrough where he earns a Platinum Rank on the Grandmaster difficulty in case you require a visual of what to expect.
Once obtained, another copy can be purchased from Commander Zavala in The Tower for one Vanguard Engram, 25 Legendary Shards, and 20,000 Glimmer. The God Rolls for the Buzzard can be found below:
| PvE God Roll | Perk |
| --- | --- |
| Barrel | Arrowhead Break |
| Magazine | Ricochet Rounds |
| Trait 2 | Overflow |
| Trait 2 | Kinetic Tremors |
Guardians in PvE content want to take Arrowhead Break to greatly control recoil and increase handling speed. Ricochet Rounds cause bullets to bounce off hard surfaces, while also increasing stability and slightly increasing range. Overflow automatically loads the weapon beyond normal capacity when picking up Special or Heavy ammo. Kinetic Tremors is a must-have Perk for PvE activities. This Trait causes sustained Kinetic damage to a target to emit shockwaves that damage nearby foes.
| PvP God Roll | Perk |
| --- | --- |
| Barrel | Arrowhead Break |
| Magazine | Ricochet Rounds |
| Trait 1 | Perpetual Motion |
| Trait 2 | Rangefinder |
Guardians ideally want to have the same Barrel and Magazine as the PvE God Roll. A weapon with Perpetual Motion gains stability, handling, and reload speed while the wielder is in motion. Aiming a gun with Rangefinder increases its effective range and zoom magnification in Destiny 2.
Source: Butters/YouTube
Franchise:

Destiny

Platform(s):

PlayStation 4, Xbox One, PlayStation 5, Xbox Series X/S, Microsoft Windows

Released:

2017-09-08

Developer(s):

Bungie

Publisher(s):

Activision, Bungie

Genre(s):

Sci-Fi, Action

Multiplayer:

Online Co-Op, Online Multiplayer

ESRB:

T

Summary:

Destiny 2 is a multi-player, live-service, first-person shooter by the original creators of Halo, Bungie. Players will assume the role of a Guardian – an elite force of protectors of Earth that are bestowed with a power called Light to defend humanity from encroaching aliens and a threat known as the Darkness. The game has several expansions that flesh out the world and constantly change the core game's world while introducing brand new challenging raid events for teams of players to take on.

How Long To Beat:

12h 17m

Expansion Packs :

Forsaken, Shadowkeep, Beyond Light, The Witch Queen, Light Fall

Prequel:

Destiny