Warning: Contains SPOILERS for Gen V episode 8!
Summary
The Boys season 4 will incorporate the Supe killing virus from Gen V as a major storyline, with Butcher already aware of it.
The events of Gen V are closely tied to the upcoming Election Day in The Boys season 4, potentially involving Victoria Neuman.
The Supe killing virus has the potential to disrupt the balance of power and pose a threat to all Supes, including Homelander, Starlight, and Butcher. The implications for the Vought Corporation and the wider population of Supes could be catastrophic.
Producers Eric Kripke and Michele Fazekas have explained how the shocking Gen V season 1 finale leads directly into The Boys season 4. In a violent and graphic conclusion to the new spinoff show, audiences were treated to two additional cameo appearances from the flagship series, namely Antony Starr's Homelander and Karl Urban's Billy Butcher. Arriving at the end of a brutal campus massacre orchestrated by Maddie Phillips' Cate, Homelander instead accuses Jaz Sinclair's Marie of attacking her own kind and subdues her. Meanwhile, the finale's mid-credit scene shows Butcher exploring the now abandoned Godolkin University research facility dubbed "The Woods".
Speaking with Variety the producers and respective showrunners on both shows discussed how Gen V's season 1 finale leads directly into The Boys season 4, and even clarified the timeline of events being depicted. Kripke revealed that he wanted Butcher to already be aware of the Supe killing virus in The Boys season 4, which provided the impetus for his character's cameo. Meanwhile, Fazekas revealed that the events of her own show are "pretty close" to the in-world Election Day involving Vice Presidential candidate Victoria Neuman that will likely feature heavily in The Boys season 4. Check out their comments below:
Kripke: For Butcher, by the time they were making the finale, we were pretty deep into breaking Season 4. We knew that we wanted that virus to be a pretty big part of Season 4, and we knew that we wanted Butcher to be aware of it. It seems crazy that he wouldn't be aware of it. It became kind of tricky, because how do we show that he knows about it without it just being dialogue? This idea came up that it probably shouldn't even happen in "The Boys," it should happen in "Gen V." The value of having the [two shows' writers] rooms be in coordination is, our room took it to Michele and her room and said, 'Can we put Butcher in the end, so we can show that he's really hot on the tail of the virus?' It was really cool, because it does a nice little preamble to what's coming next. And Karl and Ant both were willing to come in on their days off to go work on the other show. But the Homelander part was Michele's team.

Fazekas: It's pretty close to Election Day now.

Kripke: It started with the fall semester, and it was reasonably halfway through, you're in October-ish when this show kicks off and the election is in November.
How Will The New Supe Virus Affect The Boys Season 4?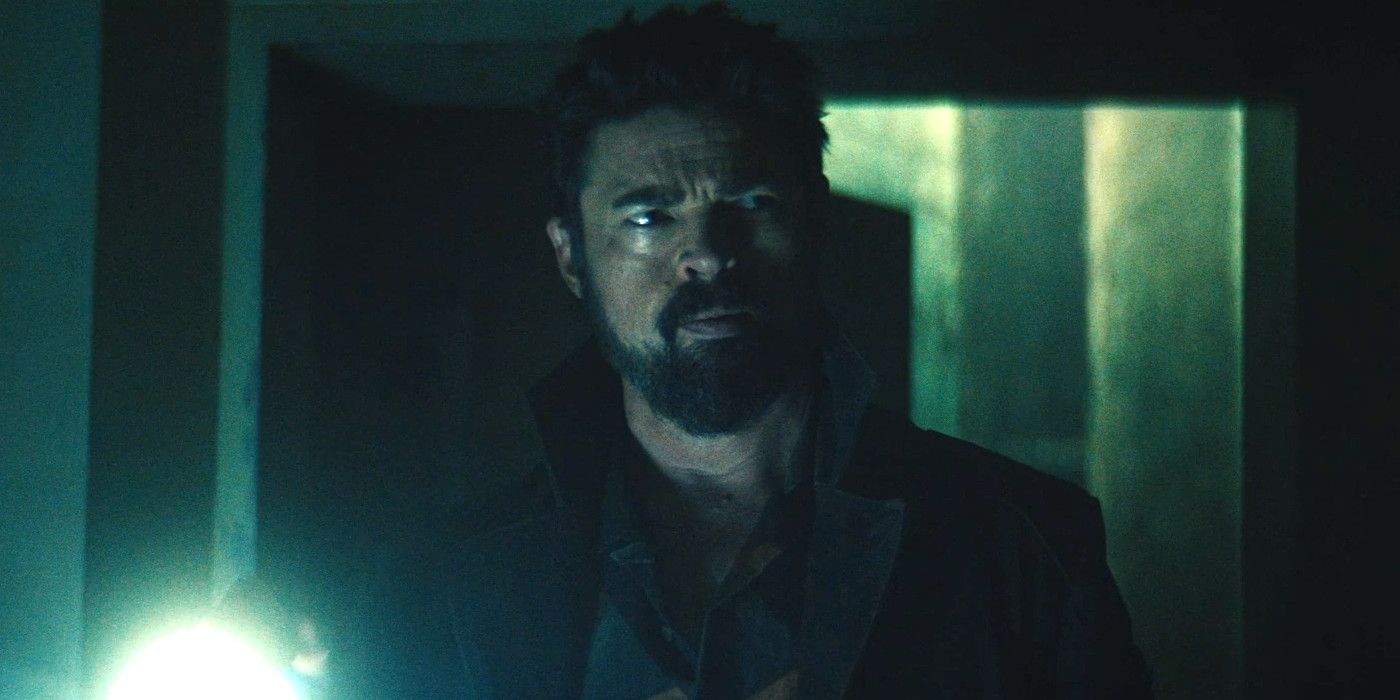 Originally created as part of an intricate revenge scheme orchestrated by Godolkin University's Dean Shetty, Gen V's Supe killing virus has the potential to fundamentally change the balance of power in the shared universe of both shows. Even though the Gen V season 1 finale saw the virus come into the possession of Victoria Neuman, it will likely become an item of interest not only for Butcher and his compatriots but also for both the world's Supes and the Vought Corporation that controls them.
With the potential to harm those once thought largely invulnerable, the virus could potentially serve as both a deadly weapon or a powerful tool of control for whomever wields it. Where once wayward Supes like Homelander were largely immune to any conceivable form of retribution or physical punishment, Shetty's virus even has the capacity to put him in harm's way. Moreover, if the virus were to ever be spread throughout the wider population of Supes, the implications for both their kind and the Vought Corporation could be potentially catastrophic.
Completely unconcerned with current allegiances and morality, a potential viral outbreak would serve as much a threat to Homelander and his fellow Vought Supes as it would to Starlight and those aligned with Butcher. It is also unknown whether the virus may even prove deadly to those who have previously been exposed to Temp V as well, in which case both Butcher and Jack Quaid's Hughie Campbell may also be susceptible to its effects. Exactly what Kripke and his team have planned for Gen V's virus in The Boys season 4 remains to be seen, but the implications are potentially world-shattering.
Gen V was renewed for season 2 ahead of episode 7's premiere after setting a new record for Prime Video.
Source: Variety