Summary
Dance Moms was known for its dramatic fights and chaotic encounters, which were some of the most entertaining moments in reality TV history.
The show's fans have missed the extravagant fights since the departure of mentor Abby Lee Miller, who left due to convicted fraud charges and poor health conditions.
Despite being canceled, Dance Moms still has a big fanbase and continues to be regarded as one of the best dance shows ever.
Dance Moms was an iconic reality TV series, and one of the best parts of the show was the dramatic fights that ensued. Since the departure of Dance Moms mentor Abby Lee Miller in the spring of 2020 due to convicted fraud charges and poor health conditions, longtime fans have undoubtedly missed the extravagant fights and chaotic encounters during the show's running. Regarded as one of the best dance shows ever, Dance Moms continues to have a big fanbase despite being canceled.
Dance Moms will never be forgotten for being home to some of reality television's most incredibly entertaining moments. There was never a dull moment between Abby Lee's outbursts and the moms' overt competitiveness. To say there were more than a few wild fallouts between cast members would be a severe understatement, but what were the best fights in the show?
Kendall Screams at Ashlee (Season 6)
Abby welcomes the girls back, praising them for doing well. Suddenly, Ashlee jealously stirs drama, convinced her daughter isn't treated fairly. Jill tells Ashlee to focus on her daughter instead of tearing down others to make her look good.
However, Ashlee reverses the statement, claiming Jill talks lowly of the girls behind their backs. Jill's daughter Kendall stands up for her mother, reaffirming that she has never spoken ill of the others. When Ashlee begins to rebut, Kendall screams in her face, "Why are you so mean?!" before taking her leave.
"Someone Shut Her Up!" (Season 7)
Abby tries to create a super team with a vast age range starring teenage girls and a child dancer. The mothers watch from a distance while their daughters practice, and Lilly and Ellie are still auditioning for the part of the youngest dancer.
Once Ellie is chosen and placed in rehearsal, the moms of the older girls voice that having a young child in the routine holds their teens back and could lead to a heartbreaking Dance Moms competition loss. Ellie's mother, Kira, instantly rages at Abby for siding with the younger kids instead of the ones who have been loyal longer. Yolanda calls Kira a liar for this, and then Jill intervenes, screaming for someone to shut Yolanda up.
"Go Somewhere Else!" (Season 1)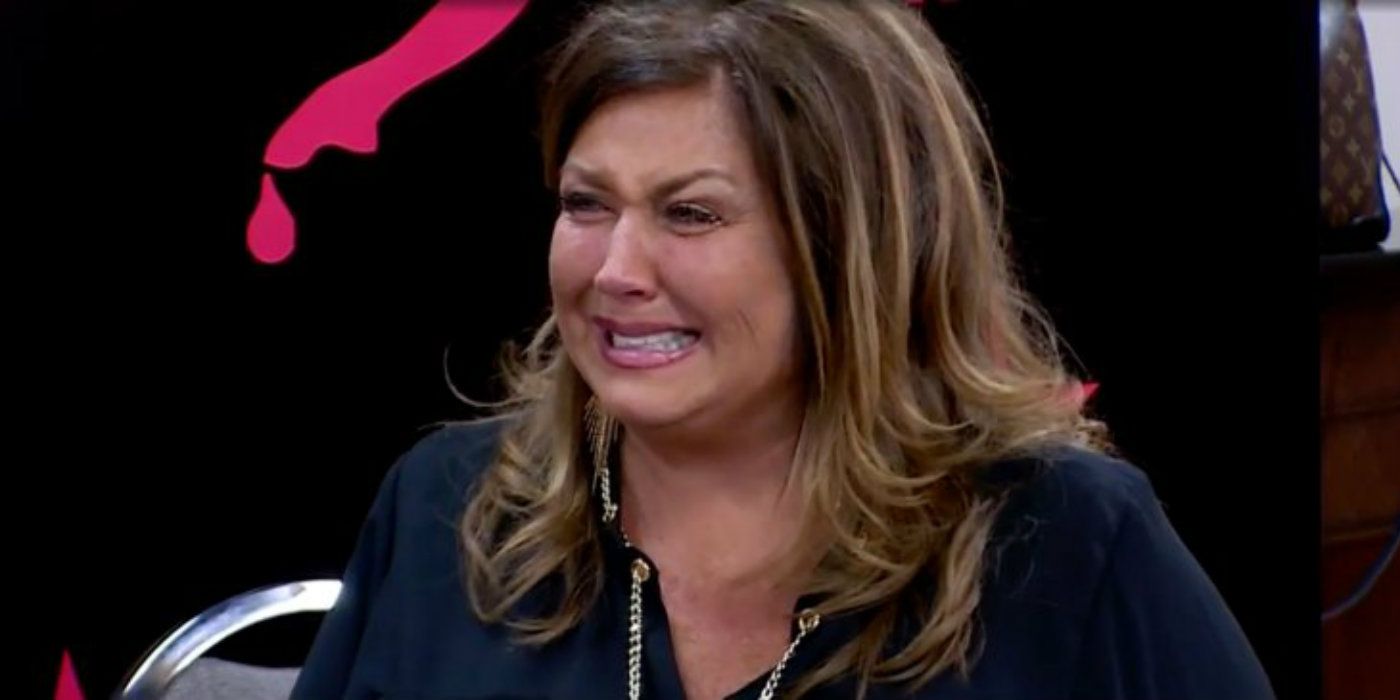 Dawn comes into the studio screaming at the top of her lungs after Abby kicked out her daughter, Reagan, for not wearing class attire. Abby brings up Dawn being a minister, and to counter, Dawn yells that Jesus would be on her side of the argument.
In return, Abby screams for Dawn and her daughter to find a different dance studio. Not done pleading her case to the ruthless dance instructor, Dawn follows Abby from room to room, scolding her for being unsympathetic towards the show's children. Abby does what she's familiar with and calls the police on Dawn, throwing her and Reagan out of the building.
Christi Screams At Abby And Melissa (Season 1)
If one thing is known about Abby Lee Miller, it's her favoritism streak, specifically with Melissa's daughter, Maddie. Christi is fed up with Abby and Melissa for making everything about Maddie Ziegler and no one else just because she wins a lot.
Christi feels that her daughter, Chloe, and the other girls were set up to fail because they learned the choreography for the competition later than Maddie. When she challenges Abby and Melissa about this, they are soon wailing wildly at each other about the quality of their training. Abby ends it by threatening to take away Chloe's national title.
Abby Gets Mad And Kelly Fights Back (Season 2)
The scene unfolds with Abby telling Kelly, Christi, and their daughters that she wants to talk to them about their performance. Abby believed their parts were on par with her vision of the dances, but they fell apart when the girls danced as a group.
When Kelly is about to respond, Abby goes on a rude rant about her daughter's rusty form. Kelly tells Abby to work on their weaknesses with them, to which Abby keeps degrading the kids, convinced that they aren't committed enough. Kelly and Christi verbally agree that the choreography is stale, continuing to curse out Abby together.
Yolanda Chokes Stacy (Season 7)
Yolanda and Stacy are irritated because their kids aren't going to be in a new dance since the subject matter is too mature. Per her mother's request, Ellie pulls their choreographer aside and talks her into including her in the dance.
After Yolanda fibs about not telling her daughter exactly what to say to the instructor, Stacy calls her a crazy liar. Being cursed at by Stacy and mocked by the others, Yolanda leaves, dragging her daughter under the guise of being excluded. Stacy chases Yolanda, raging about the woman's lying tendencies until Yolanda borderline chokes Stacy.
Christi And Tammy Fight (Season 4)
Known as one of the most chaotic fights in Dance Moms history, Christi and Tammy go head-to-head after Christi catches the other moms talking behind her back. Christi then says they're all jealous of her daughter.
Christi aggressively dares Tammy to fight her, then throws something toward her, egging Tammy on. At the drop of a dime, they spiral towards each other, throwing punches as a man tries to hold them back. Tammy punishes the side of Christi's head before the two are separated, still yelling at each other hatefully.
Huge Fights After The Judging (Season 3)
Christi fights with Leslie over joining the team and keeping her seat because she wants Kelly back, the two cursing each other out brutally even after a big win. Then, rival dance studio Candy Apples' moms start a fight about one of their boys, Anthony.
Anthony's mother confronts the Dance Moms behind the scenes, claiming they were saying negative things about Anthony's choreography during his performance and that he was rude to them before the competition. When Anthony's mom gets in Jill's face, all the moms build a shield around Jill, showing their protective bond with her.
The Water Fight (Season 3)
Cathy follows Abby into the dressing room with gusto to highlight Kendall's flawed performance. As soon as Abby sees Cathy, she throws water in her face, claiming she "thought the witch would melt."
Seconds later, Cathy smacked Abby with her heavy purse and then started walking away, only to be met by Jill (Kendall's mother) yelling back at her, flinging more water her way. Without hesitation, Cathy grabs a water bottle and throws water on Jill as they curse at each other viciously. Abby sits still silently, holding her arms and feeling sorry for herself as Cathy exits.
"GET YOUR FINGER OUT OF MY FACE!" (Season 4)
Regarded as the most intense feud between cast members in the show's entirety, Abby and Kelly Hyland battle it out backstage. Once Abby says that Kelly's daughter looks miserable, Kelly exclaims that she will take her daughters and leave.
Things quickly escalate as Kelly points back at Abby, screaming at her to get her finger out of her face. Abby then pushes toward Kelly and tries biting her finger like a senile Pac-Man. Kelly slaps Abby in the face to retaliate, yanking her hair tightly. "You're nuts!" is the last remark between the two before Abby calls the police, cementing Dance Moms as one of the top reality TV shows ever.